Wiki Targeted (Entertainment)
Play Sound
This article needs to be completed. Please help Dawson's Creek Wiki by adding information.
❝ I hope I can help, every now and again, with a little piece of the puzzle ❞
—Mitch to Dawson
Mitch Leery is a principal character on Dawson's Creek. He is portrayed by John Wesley Shipp.
Character
Mitch Leery is the husband of Gale Leery. The couple have two children - Dawson and Lilly Leery. He was a substitute teacher, guidance counselor and football coach at Capeside High School, and co-owner of Leery's Fresh Fish—the family restaurant. Mitch is of Irish descent.
Arc
Season 1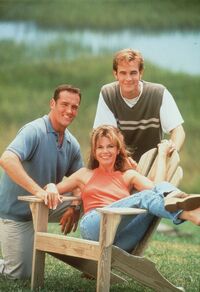 In Season One, Mitch is unemployed and spends his days adding the finishing touches to his restaurant plans which includes scuba-suited waitresses. After learning of wife Gale's affair with her colleague, the couple struggle to maintain their relationship.
Season 2
Mitch and Gale begin counseling to try to save their marriage. In another attempt to keep the relationship going, Mitch suggests an open marriage in which they are both able to see other people. Mitch becomes a substitute teacher at Capeside High School and dates the film teacher at the school, Miss Kennedy. The open marriage fails to revive their marriage and Mitch and Gale decide to divorce, with Gale leaving Capeside to work in Philadelphia.
Season 3
Mitch has started a new job as a substitute English teacher at Capeside High School, and goes on to become the school's football coach. He successfully recruits Jack McPhee and freshman Henry to the team and wins his first game as coach. When Gale returns to Capeside from Philadelphia, she and Mitch gradually become friends again, and he assists her in opening the fish restaurant which had always been their dream. As their friendship and professional relationship continutes, they realise they still have feelings for one another and start seeing each other again before eventually remarrying in the final episode of the season.
Season 4
Having reunited with Gale, the couple have their second child, Lily. They continue to run their restaurant - Leery's Fresh Fish. Mitch continues to head coach the Capeside High School football team and took over as guidance counsuler for the school.
Season 5
After a big fight with Dawson over Dawson's decision to drop out of film school, Mitch tells Dawson that he is very disappointed in him. Dawson leaves an angry Mitch to move to Boston. That night, on his way home from buying milk, Mitch is killed in a car accident on October 24, 2001, at the age of 45. The character of Mitch Leery was then written out as having died. The accident was a result of Mitch dropping his ice cream, taking his eyes off the road to pick it up, and crashing the car into another driver. His death causes anxiety attacks in Dawson for some time after the accident.
Photos
Notes and references